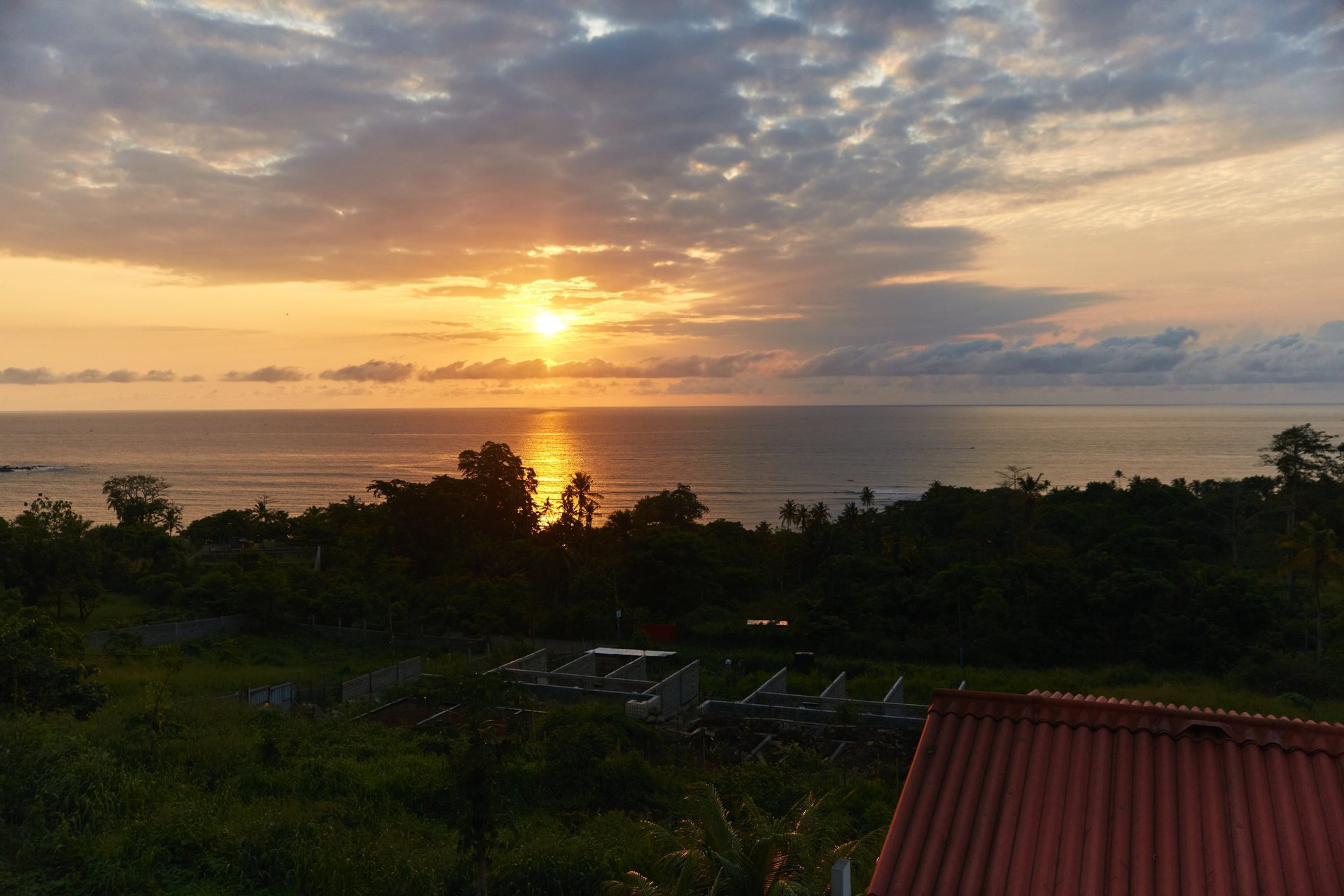 São Tomé, An Adventure Seeker's Paradise
São Tomé and Principe is not only Africa's coffee and chocolate islands but a hidden paradise that deserves your every coin!
TRAVEL DESTINATION GUIDE
I don't know about you, but São Tomé has been on my bucket list for God knows how long! Of course, I've heard from travellers and creators who visited there severally, and they came back with good news. Guess what? I ticked off São Tomé & Principe (I didn't get to see Principe, sadly) off my list, and here's the gist about this hidden paradise.
Before anything else, I started planning this trip months ago with a group of 3 friends (Robert, Sally and Adoma). We kept pushing dates further to suit everyone's needs (the perks of group travel), and we finally decided to fly out on the 20th of November.
Fast forward to Sunday, 20th November, we were on a 1 hour 45 minutes flight to the island. It felt so good because I hadn't been outside Ghana since the pandemic hit, and as I sat close to the window, I said, perhaps this is a comeback.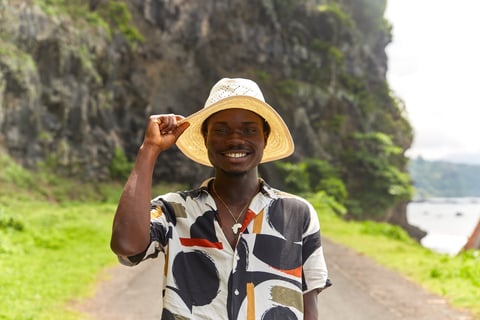 We arrived at about 7:55 pm at the very tiny São Tomé international airport, and it had rained. The air and weather felt so good, clean and fresh as we walked to immigration. Just so you know, São Tomé is visa on arrival for Ghanaians (I'm not sure for other African countries or where you're reading from). Before travelling, you must obtain a receipt of authorization to visit and that can be done here for EUR 28. On arrival, we paid €20.00 and got our passports stamped. The immigration officials were friendly and welcoming, as São Tomé is a frequent destination for Ghanaians.
Driving in our rented Toyota Rav 4 from the airport through the streets and to our guest house was a relaxing sight. I hadn't seen outside Ghana in years, and seeing this oppressively beautiful and quiet place was everything! You could see from the buildings, the greens, and the people that São Tomeans are peaceful. Life here is slow-paced, unpressured and sustainable. We stopped by Le Bistro to grab a bite before arriving at Domus Guesthouse in Santana. At about this time, everyone in the city was asleep! I wasn't surprised because we hardly saw any nightlife activity on our way from the airport.
The next four days on this stunning island were my best vacation ever. Portuguese was the main language spoken here, and none of us was familiar with it. However, we got our way with so many things with our apple translate and the little french I knew. From changing our Euros to their dobra to buying a sim card to visiting the beautiful tourist attractions, we were sold!
We visited the National Museum and learnt about the history of this beautiful island. The museum was undergoing renovations, but we still had a good time. The tour guide didn't speak English, but luckily, we had our driver, Charlie (that's how best I can spell the name), to help with the translation to french. We were even able to tell from how the guide made gestures. If you're planning to visit soon, check out the museum of national history for its rich cultural and political history. There was little about the usual African slave trade, by the way.
Next, we visited Diogo Vaz, one of the oldest coffee and cacao plantations in Sao Tome. They were just by the road, and we parked and went in. Oh Boy, chocolate and coffee of every kind were on the shelves! We bought some ice cream, learnt about the place and had a great time. The smell of coffee and cocoa filled the whole room, and you could imagine what that felt like.
We drove further within the central district and went shopping. One thing about Sao Tome is they hardly ever imported anything. They consume a majority of what they produce, and that was a great thing to note. We bought bottles of water, iced tea and snacks for the trip. You have to pay an extra fee for packaging or carry-on bag. I know this is common in some other countries, as this helps in protecting the environment.
We bought supper at a local restaurant not so far from the museum. Sao tomean food is not your regular food. The food is not spicy; however, their meat is well-grilled and tasty. My favourite dish would be their oil rice, pork and chicken. I always travel with an open mind, and I wasn't surprised by the taste of the food. The shredded cocoyam leaves used as a salad made my throat itchy, and that was the only bad experience with their food. All the same, Sao tomean food is healthy.
For the rest of the days, we explored more tourist attractions. Santa Catarina is my top spot with all the greens and blues I need in my life right now. The local coconut and cocoa vendor treated me with only 5 Dobro.
Lagoa Azul, my second favourite spot, had the most stunning view I've ever seen. The clear blue sea, the lighthouse, the fisherman in his canoe and everything else created the perfect picture I needed. My best vacation just started.
The sight of Saint Nicholas Waterfall was everything. The whole area was so cool we didn't spend much time there. There's a stairway that leads you to the base of the falls leading to the left.
The days went by so fast, and on our next adventure, we visited Ilheu De Rolas. A small island with about 150 people. Our journey to the south was perfect. We saw The Pico Grande at Obo National Park with all its beauty. We stopped to take photos as we continued driving to the island. One thing I just remembered was the drive was long, and you could only do an activity at a time.
At the beach, we rented a speed boat for €40 for all 4 of us. We put on life jackets and sailed for about 25 minutes on the blue sea to the island. We met a friendly English-speaking tour guide who took us to Marco, Ecuador, the exact point of the global equator. We spent nearly an hour and a half on the island and returned to the beach.
We checked into Omali Lodge (look out for my work with them soon) that night for the next few days. The next morning, after breakfast, we headed to the beach on the other side of the hotel for dolphin-watching and snorkelling. The weather wasn't encouraging that morning; however, seeing dolphins swimming and leaping into the air was just enough to brighten our day. Our attempt at snorkelling failed when the rains set in at Praia Tamarindos. We headed back on the boat in the rain back to the beach to rest.
I spent the rest of my last but one day on the island visiting the central part of the city. The pastel-coloured buildings lined up on the dusty streets of the capital were exciting to see. I took photos, and Robert made a hyper-lapse across the street.
My few days in Sao Tome have been exciting. Will I make a comeback? Yes. I plan to visit Principe and to try to visit more plantations and beaches. São Tomé is just a wonder and a destination for your wildest adventures!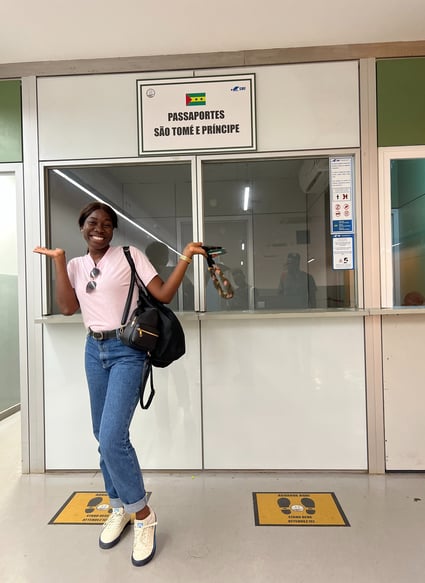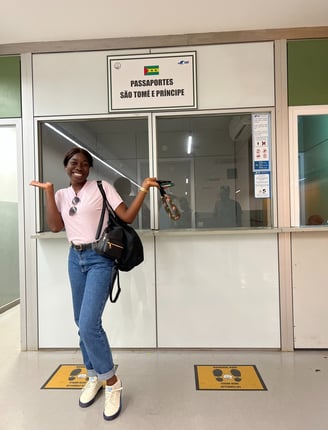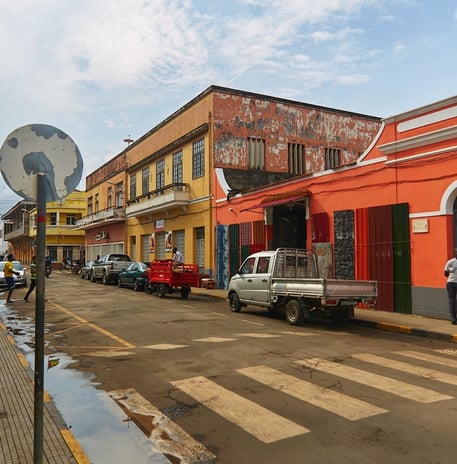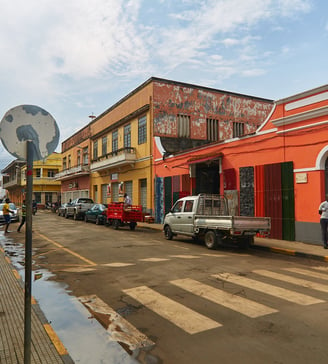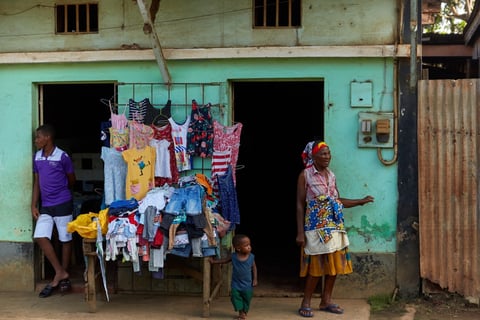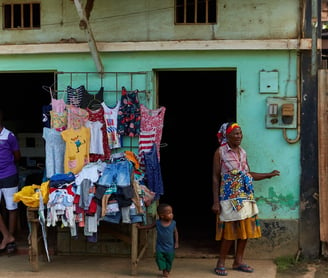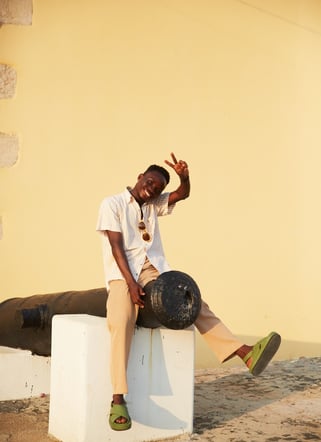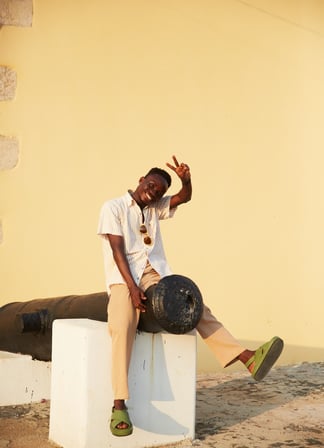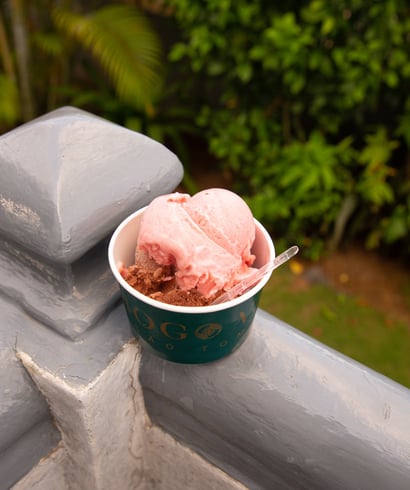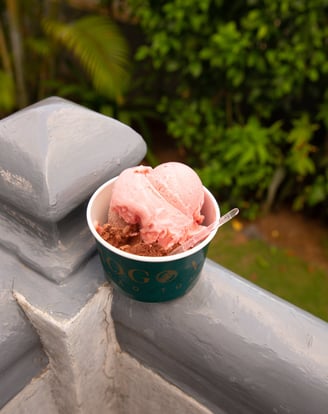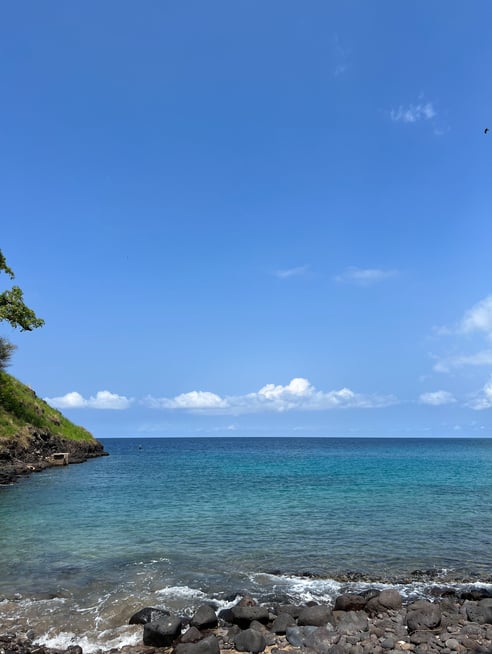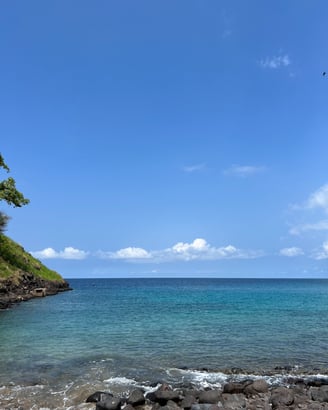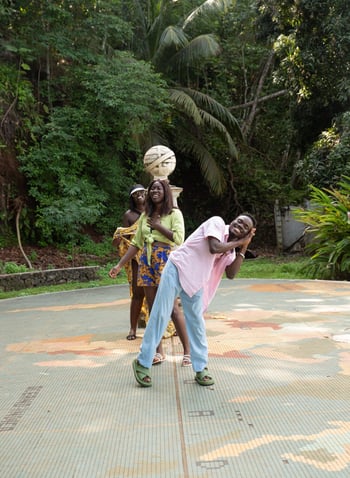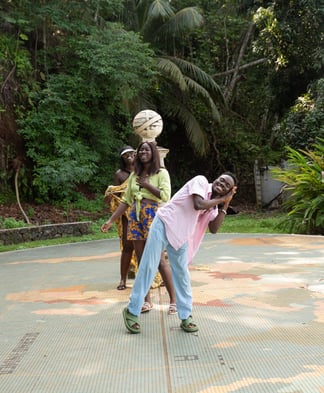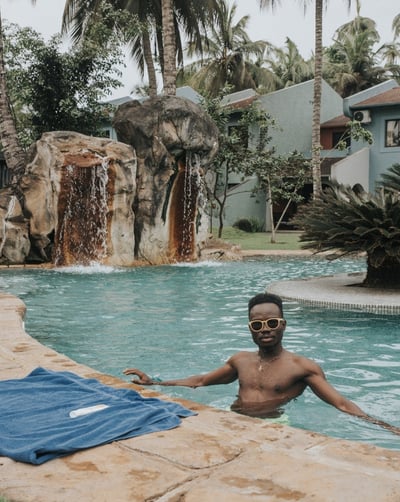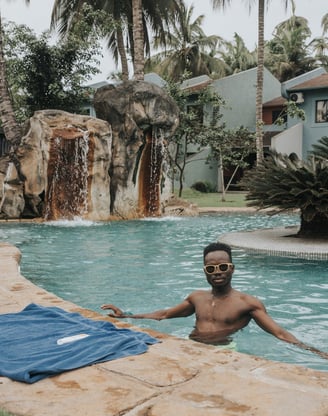 On our way back to the guest house, we visited Devil's Mouth. The Devil's mouth is an iconic beach with rocky structures. You should watch the beautiful sunset at the beach. The waves roared and washed against the rocks at the shore, creating the perfect ending to our day 3.