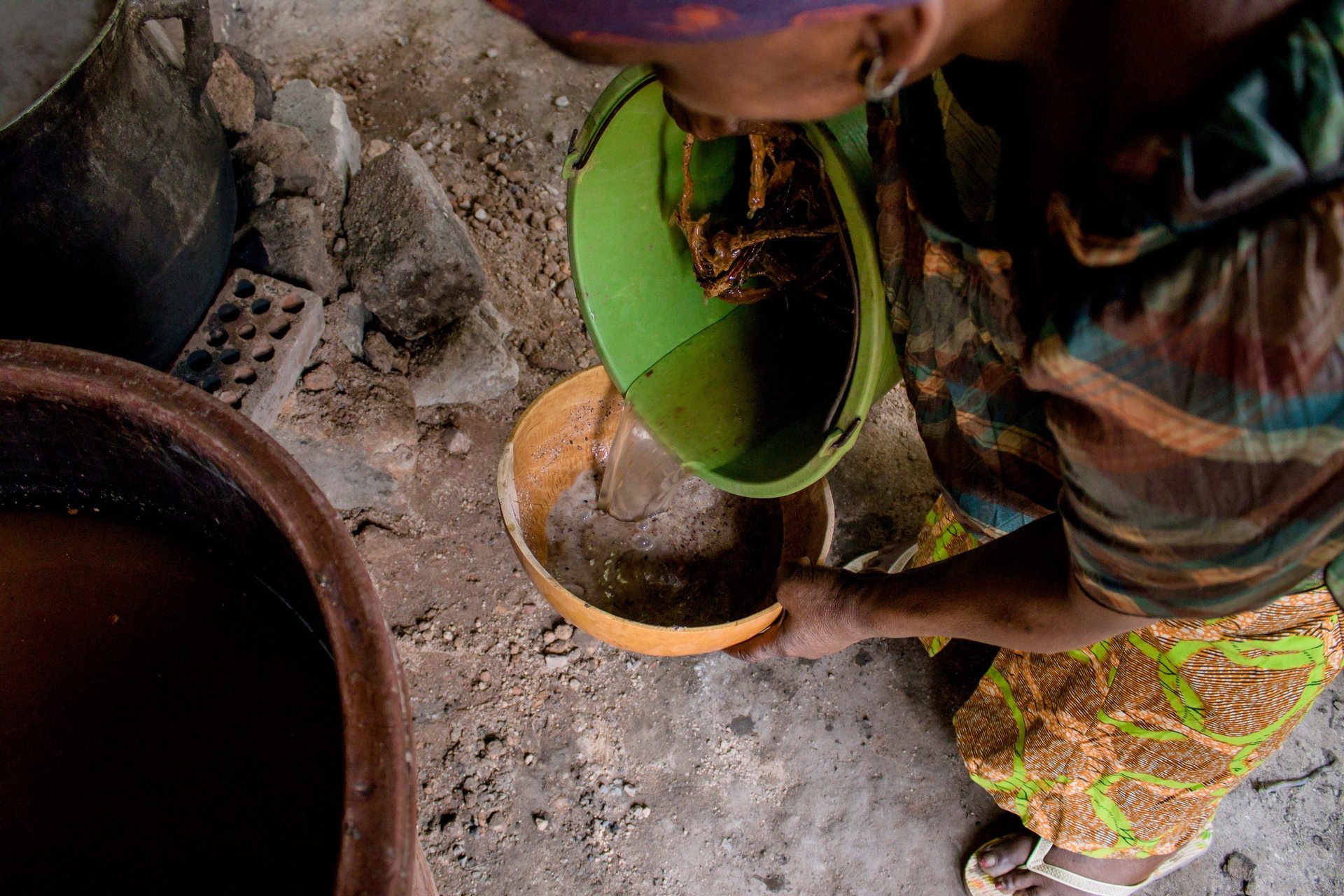 Rediscovering The Flavors of Ghana: A Food Safari Adventure
The best way to learn about the history and culture behind a country's food and drink is to go on a food safari; here's why
FOOD & DRINKTRAVEL
Ghana is a country rich in culture, history, and cuisine. From street food to upscale restaurants, the country offers a range of flavours to tantalize your taste buds. You cannot visit Ghana without trying its famous local food and drink! If you're looking for a culinary adventure, a food safari in Ghana is something you should do.
In the middle of January, I joined Ghana Food Movement and Jolinaecotours on their Afehyiapa Food Safari. The tour took me in and around Accra central, trying local beverages brewed on the stop and exploring spices!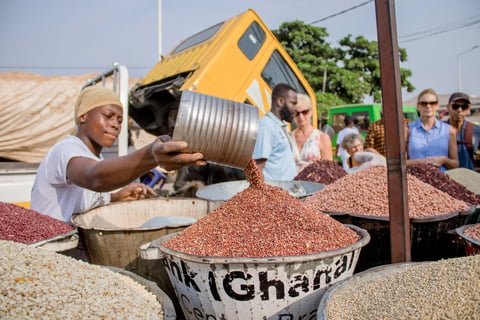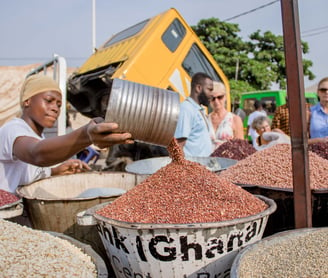 A trader pours a can of spice into a pan at Nima Spice Market. Photo Jolinaecotours
Nima Market is Accra's biggest spice market. You can find all kinds and sizes of spices here. The traders, mostly Northerners, own these spice stores, and they know every spice like the back of their hand. A Hajia shows you how best to use the spice in your cooking and the medicinal benefits. At the market, you'll find both local and imported spices. Most of these spices are used in preparing our local beverages like Bissap, Lamougin, Zoumkom, Pito etc.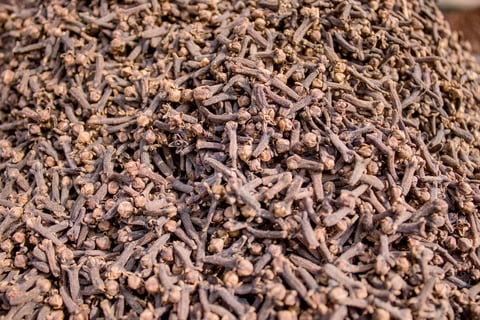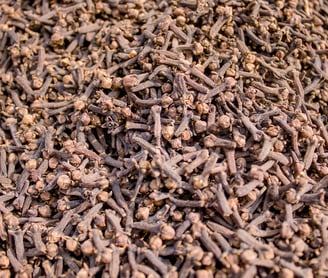 A photograph of clove spices, a popular spice used in cooking and beverage making. Photo Jolinaecotours
We headed to Hot Coffee, a place in Nima where local beverages are made. Ghana has several locally made drinks depending on the ethnic group or tribe. I bet you only know of sobolo but there are others. Most of these drinks are made from sorghum and millet. The choice of spices used and the preparation method determines the texture, colour and taste. I sampled about five different local drinks, and I couldn't select a favourite!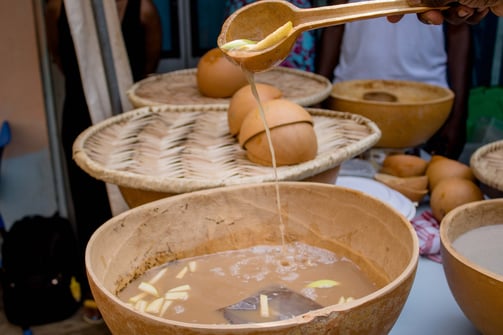 Spicy ice-cold lamougin with apple slices in a calabash. Photo Jolinaecotours.
Next on tour, we visited a local pito-making house in Cantonments Accra. The family-owned business has been in existence for years. Their mother inherited the business from her mother, and that has been the family's source of living for decades. Coming from the Upper West, this pito bar connects people from across Ghana who visit occasionally to bond and make merry over ice-cold pito, served in calabash. The pito is prepared from boiled and distilled sorghum grains. Sorghum grains are cultivated in Northern Ghana and Pito is a common beverage. I had both fresh and fermented pito. Pito is refreshing and you can have it to cool down the heat in the city.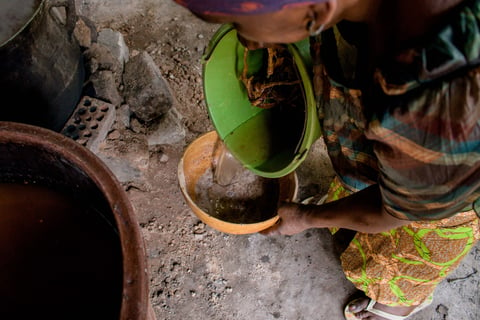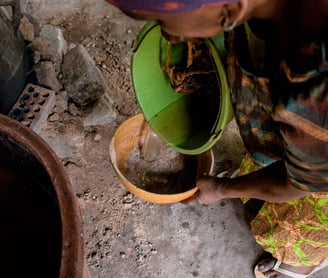 Distilling sorghum locally to produce Pito. Photo Jolinaecotours
The food safari ended with a healthy lunch and another beverage-making session at One Corner Gardens, a hidden gem in the heart of Accra. We had a buffet of black fonio grain, local chicken, coleslaw and local rice for lunch. The food is locally sourced here in Ghana from farms across the country. One Corner Gardens grows a majority of its food and ingredients in its backyard. Who doesn't love a farm-to-table dining experience?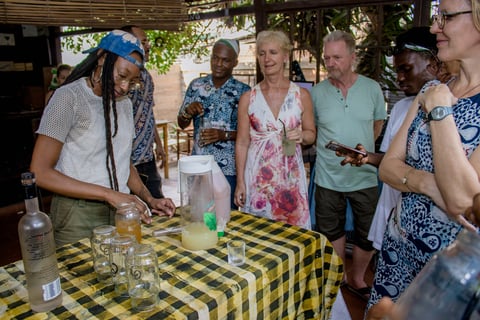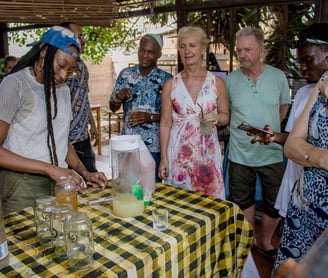 Making akpeteshie with freshed pineapple juice. Photo Jolinaecotours
Aside from merry-making and partying, you can try one of these fun experiences for adventure! A food safari is an experience and an adventure together and you should join one!